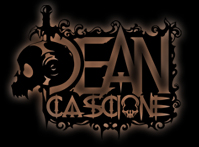 Dean Cascione's Debut CD
Guitar Chop Shop
is now available - Let's Show Some Support
for Dean, this website and the whole Neo-
Classical Shred Movement!!!

Guitar Chop Shop
USA / Canada Orders - (Price Includes Shipping!)
$9.99 US

Guitar Chop Shop
International Orders - (Price Includes Shipping!)
$13.99 US

CD NOTES: Horns up Shred Heads! Dean Cascione Is an American Neoclassical Shred Guitarist who lives in Massachusetts and studies under the Mighty Shred Lord Joe Stump. In his Debut release "Guitar Chop Shop" Dean digs deep into the neo-scallops and mixes melodic hooks with killer fret board assault that even the most demanding shred enthusiasts will enjoy. From fierce pedal tones to multi-note sweep arpeggios, Guitar Chop Shop is packed with plenty of new shred that's not overcooked. Dean Also teamed up with famed Shrapnel / Lion Records Super Shredder George Bellas, in which George mastered all the tracks on the cd.

Guitar Chop Shop is also available for download at these locations:
"